Mangrove Jacks Finishing Hops Cascade 15g
3 in stock
Mangrove Jacks Finishing Hops Cadcade 15g Packet.
Finishing hops are sold in small quantities to let you add a final flavour and aroma character to your brew without any leftover hops.
Cascade is bursting with zesty grapefruit flavour and aroma. The bright citrus backed by some soft floral and spice maximises that bright flavour and rounds out the profile of your brew.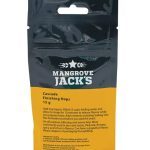 Mangrove Jacks Finishing Hops Cascade 15g
Your review
* Review is required
Email
* Email is required
Add photos or video to your review