Mangrove Jacks Apple Cider Review
A crisp, clean cider that will give off-the-shelf options a run for their money.
The Mangrove Jacks Apple Cider Review – this cider kit touts the taste of delicious orchard apples, a light and crisp finish and a juicy apple bit. And we wouldn't disagree. 
The cold filled pouch comes with premium apple cider craft yeast, sweetener and apple cider flavouring, and allows brewers to create a final product with a dry, off-dry or sweet finish.
This was the first time I have ever brewed a cider and to say that I was pleased with the result is an understatement. I'm confident enough with the finished product that I don't think you would be able to pick the difference between the home brewed version in a blind taste test with off-the-shelf bottles of cider. 
The Mangrove Jacks Apple Cider Review was exceptionally easy to write and even easier to drink.
Unsurprisingly the aroma is characterised by juicy apple notes which are comparable to a bottle of apple juice. The flavour follows suit within a very light bodied and crisp finish.
I brewed this cider with an off-dry finish which is perfectly on the fence – a touch of dryness, but not too dry and a hint of sweetness, but not too sweet.
Once bottled, the instructions advise to leave the brew for two weeks and suggest four-six weeks for a more mature finish. I tried the brew at two weeks and then again at four weeks. At two weeks the brew was perfectly drinkable and at four weeks I felt the flavours had settled and mellowed nicely.
My friends described the brew as being very easy to drink and I got a thumbs up from my wife.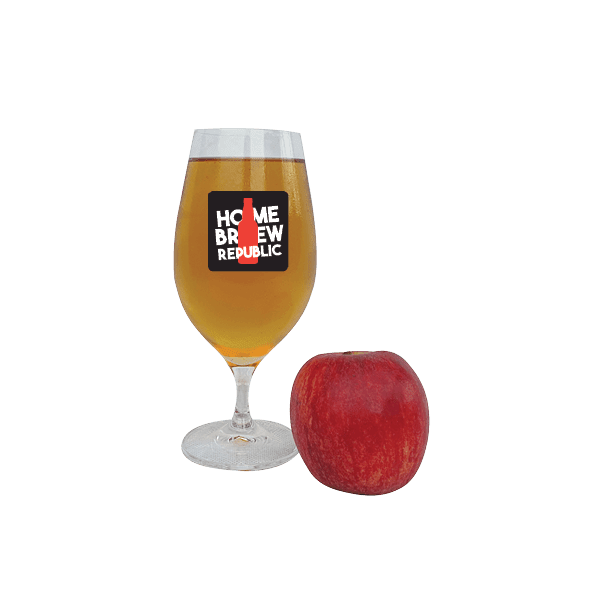 Mangrove Jacks Apple Cider Review: What The Packet Says
ABV Approx:
 5.2%
Ideal Fermentation Temperature: 18-24 Degrees  
Yeast: M02 Cider Yeast
Makes: 23L
Colour: Clear Gold
Style: Sweet
Mangrove Jack's Craft Series Apple Cider pouch instructions.
Additional Ingredients Required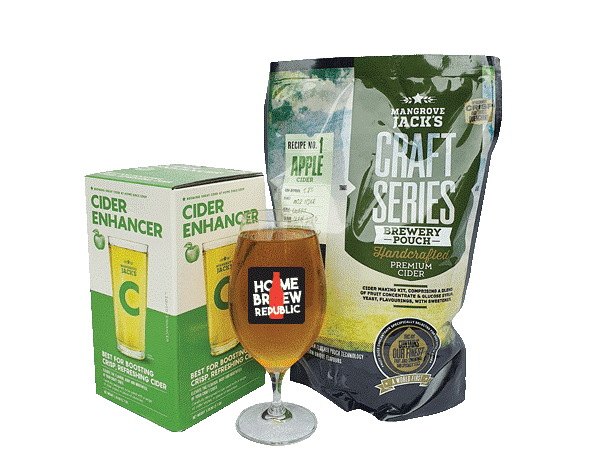 The cider kit comprises a blend of fruit concentrate and glucose syrup with flavoring and sweetener. Fair to say this is an artificial cider. 
Brewers can choose between a dry, off dry or sweet finish, which is achieved by varying the amount of sweetener added.
The instructions suggest a temperature range of 18-24 degrees celsius, which I adhered to, although I noted that the M02 Craft Series Cider Yeast packet states a temperature tolerance of 12-28 degrees celsius so I would suggest the brew will be somewhat forgiving to temperature variations. 
According to the instructions the target final gravity is 1.002, which is lower than beer.
Although I adhered to the ideal fermentation temperature stated on the instructions, my final gravity was much higher at 1.009, based on my hydrometer.
The brew was stable at this level for two days and it was day eleven when I called it.
Based on what I could see there was nothing that would have stopped or affected fermentation and although not necessarily ideal, the higher final gravity didn't seem to affect the finished product.
I normally use finings when I brew. I found instructions on the Mangrove Jack's website advising against finings in cider, unless kegging.
I did cold crash before I bottled and allowed the brew to bottle clear, which delivered a stunning finish. 
The Mangrove Jacks Apple Cider Review is a positive result from me taking a 9/10, and I anticipate a few warm afternoons and evenings on the deck enjoying a glass (or more likely two).
Given how well this brew turned out, how easy it is to drink and how quickly it is disappearing I'll be brewing another cider, this time the Mangrove Jack's Craft Series Raspberry and Lime, towards the end of Spring.